Places to eat in Newbury, Berkshire
Below are a list of restaurants in Newbury to visit during your stay at Guywood Bed & Breakfast.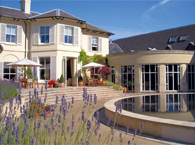 THE VINEYARD AT STOCKCROSS
The Vineyard at Stockcross near Newbury is a superb restaurant.
At the heart of the hotel and set in a beautiful contemporary dining room, the restaurant at The Vineyard is the focal point for every guest. From the bespoke linen and chinaware to the original sculpture and art that hang on the walls, every detail has been meticulously put in place. The same approach is adopted for the creation of the food and choice of wine, setting the stage for you to enjoy an unforgettable experience.
The restaurant is open to residents and non-residents daily for breakfast, lunch and dinner. Reservations are highly recommended.
Address
Stockcross
Newbury
Berkshire
RG20 8JU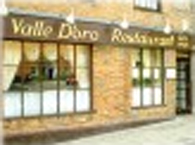 VALEE D'ORO RESTAURANT
The Valle D'oro restaurant is a lovely, traditional Italian restaurant with a real family feel to the staff, who treat you like long lost friends.
Address
29 Oxford Street
Newbury
Berkshire
RG14 1JG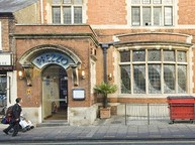 PREZZO RESTAURANT
Prezzo provides great quality Italian food in a friendly and relaxed environment at affordable prices. They use the finest seasonal products available, many of which are imported directly from Italy.
They're menu includes a wide variety of antipasti as well as pizza, pasta, risotto, grilled meats, fresh salads and frequently changing specials.
They're stylish, contemporary designed restaurant is situated in one of Newbury's historic buildings once home to the local library. This provides the perfect backdrop for informal dining or a venue in which to celebrate any special occasion.
Address
58 Cheap Street
Newbury
Berkshire
RG14 5DH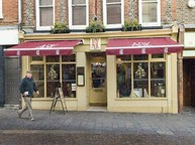 ASK RESTAURANT
ASK Restaurant Newbury is the perfect place to relax and enjoy mouth-watering risottos, an extended range of hearty al forno dishes and all your favourite pastas, pizzas and salads.
Address
34 Market Place
Newbury
Berkshire
RG14 5AG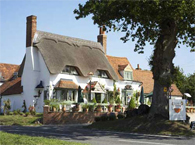 The Crab and Boar
The Crab and Boar is an award winning seafood restaurant specialising in fresh seafood, crab and lobsters with an enviable reputation both locally and nationally. If you want to experience the freshest, highest quality seafood from our UK shores, you can take a trip to the seas – or just visit us at The Crab and Boar.
All of their seafood is sourced from trusted and passionate individuals who care about the quality and standard of their produce. Their fresh fish is bought directly from the markets in Newlyn, Brixham and Looe and is delivered fresh six days a week, ensuring the seafood on your plate is as fresh as they can get it. The same practice applies to the sourcing of their other ingredients. They are very proud to be associated with dedicated suppliers who bring their fresh seafood to you and who are working hard to protect the seas for future generations.
The brigade at the Crab is of an outstanding pedigree with many of the key staff having worked with Michelin-starred chefs. Their skills and experience combined makes for a truly unforgettable experience. Their in-house sommelier will suggest a suitable wine to make your meal a memorable one. The Crab and Boar is the place where you can relax in a warm and eclectic atmosphere, and where they bring you the best seafood, fresh from the water straight to your table.
Address
Wantage Road (B4494)
Chieveley
Berkshire
RG20 8UE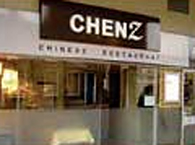 CHENZ
Chenz is a new concept in Chinese food with a combination of traditional and modern which is reflected in the sophisticated decor and menu.
Chenz offers a contemporary mix of Chinese, Cantonese, Bejing, Szechwan, Malayasian and Thai dishes as part of their extensive menu plus new feature dishes every month plus a selection of vegetarian alternatives.
Address
28 Cheap Street
Newbury
Berkshire
RG14 5DB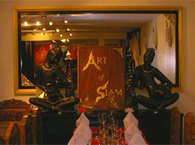 ART OF SIAM
Art of Siam provides a wide selection of Thai dishes, including classic recipes like Gaeng Kiew Wan, Phad Thai Noodle, and Tom-yam Soup, and restaurant's specialities… Art of Siam Kung Pao and Ped Yang (Thai roast duck) prepared by highly experienced chefs from Thailand's top cuisines and five-star hotels.
All dishes are freshly prepared from authentic Thai ingredients, flown over directly from Thailand; to ensure the same taste you would experience in a five-star cuisine in Thailand.
The restaurant is fully decorated in a classic Thai Northern Lanna style – featured by hand-carved wooden dining tables and chairs mastered by the local craftsmen, imported directly from Thailand. All this is to ensure the atmosphere that reflects the exotic "Art of Siam" name.
Every last little detail has been thought of from the hand painted China, to the carved tables and chairs, and with tables telling stories of every day life in the villages and jungle of Thailand.
Address
53 Northbrook Street
Newbury
Berkshire
RG14 1AN
---
Newbury is home to numerous Indian restaurants - Jane & Steve will be happy to offer their recommendations based on taste.